We provide customized product development solutions and a complete range of support for food and beverage manufacturers and purveyors. Our team of professionals are able to help with every phase of product development, from technical services to strategy, data analysis, brand-building, design, and sales.
OUR ADVANTAGE
These days, everyone is trying to do more … with less. For manufacturers, that means clients who have downsized and specialized, who are often looking to them for product suggestions and innovation. That's where we come in.
Partnering with us lets you tap into a wealth of experience, insight, and ideas—without the cost or commitment of hiring staff. We make the process easier. Instead of selecting and managing multiple vendors, manufacturers can turn to us a one-stop shop for every step of the product development cycle.
Simple
Unified
Cost-effective
WHAT WE DO
Product & Business Development – from Concept to Shelf!
Ideas, Trends and Innovation
Strategy Development for both Branded and Private Label Manufacturers
Concept Development and Prototyping
Quality Assurance and Troubleshooting
Product and Process Evaluations
Customer Demo's and Sales Support
Menu Development and Implementation
and more…
In addition we draw upon an experienced network of industry leading professionals to build a highly effective support team, customized to the needs of the client.
Sales and Marketing
Point-of-Sale Data Processing
Data Integration
Data Analysis
Retailer Execution
Buying
Category Management
Market Research
Planogramming
Ad Tracking
Data Processing
Brand Positioning
Branding and Design
Brand Clarity Workshop®
Brand Identity Development
Packaging Design Development
Web Site Development
Creative Copy
Photography
Safety and Quality Assurance
HACCP Processes and Training
Quality Assurance (QA)
Quality Control (QC)
Standards and Procedures
BRC/GFSI Audit Preparation
Client list and references available upon request.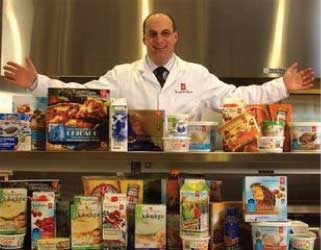 CRAIG WAKEFIELD
Craig Wakefield's passion for food started as a latchkey kid, preparing crêpes and fancy pasta dinners for his working parents. His formal career in food began with a degree in culinary management from George Brown College. He refined his culinary skills working in acclaimed hotel dining rooms and restaurants across Ontario, including the Four Seasons Toronto. Seeking to help replicate the restaurant experience for people at home, Craig returned to school for a BSc in food science and nutrition from Ryerson University, which ultimately led to his role as a product developer for President's Choice, Canada's largest food brand.
Craig has contributed to strategy, set specifications and overseen trials and production for hundreds of private label and branded products including ice cream, pizza, juice, soup, yogurt, pasta dishes, frozen entrees, canned goods, baby food, and beer to name just a few. Since setting out on his own he's put his culinary and food science backgrounds to work for a number of companies both large and small, helping them to innovate and grow to their full potential. He has traveled the world to visit major food shows, top purveyors, and dining rooms in search of food that is innovative, trend-setting, and authentic.
Craig holds a BSc from Ryerson University, professional certificates from University of Guelph, the American Institute of Baking, and the Culinary Institute of America. He is a member of the Canadian Federation of Chefs and Cooks, Research Chefs of America, and the Canadian Institute of Food Science & Technology.